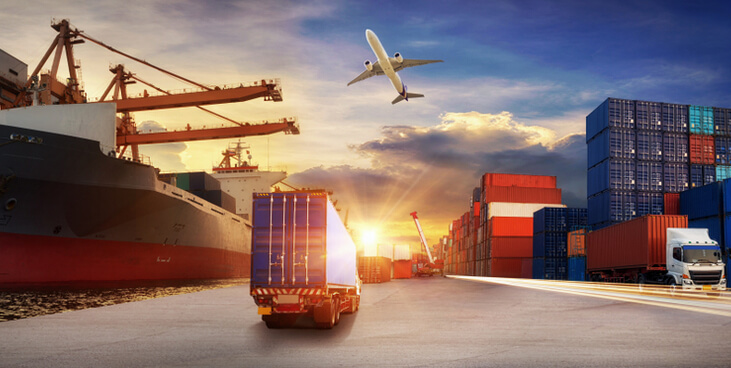 International shipping can be a nightmare. What with so much documentation to take care of and the different modes of transport your cargo has to be put on before reaching its destination. 
Did I mention border crossing and the different regulations that govern each?
I guess you get the picture.
If you want to avoid the headache that comes with numerous handoffs and mountains of paperwork to synchronize with the movement of your cargo, you must consider using door-to-door shipping.
What is Door-to-Door Shipping?
Door-to-door shipping is a shipping service that involves the shipper collecting your goods from a location of your choice and delivers them to another location. The shipper, also known as a carrier, manages the entire logistics chain including:
packing (if you need packing services)

picking your goods

all necessary paperwork

customs clearing

warehousing

doorstep delivery
Particularly if you're delivering goods internationally and want them delivered on time, door-to-door shipping companies are the way to go.
Advantages of Door-to-Door Shipping
I'm sure you already have an idea of the advantages that come with door-to-door international shipping services. But let's take a granular look at some of the most prominent ones.
Time-saving and Efficient
International shipping is extremely demanding of both time and effort. Time and effort you're better off spending on other productive tasks. Leaving your goods in the hands of a door-to-door shipping service ensures that every process and stage of transit is professionally handled. As a result, your goods will be shipped expeditiously and arrive on time.
Cost-effective
Another advantage of using door-to-door services is the cost factor. It's cheaper to use a door-to-door service than to use freight services that require you to pay for each stage of the shipping separately.
Easy Tracking
When shipping goods internationally, knowing where your goods are at any given time is crucial. This is another advantage that door-to-door services have. Because the entire shipping process is handled by one party, keeping track of your goods is much easier. You don't have to call different offices at each stage of your consignment's journey as you only deal with one contact point.
Reduces the Loss of Goods
Using a door-to-door freight service reduces the risk of your consignment getting lost as there are fewer parties involved. Sure, many shipping companies have partners they work with in other countries, but because your shipper oversees the whole process, it's almost as if only one party is involved.
How to Pick the Right Door-to-Door Shipping Service for You
Now that you know what door-to-door shipping is and its advantages, let's quickly dive into how you can pick the right service for your needs.
Consider Customer Reviews
One of the first stops when deciding which door-to-door freight shipping service to use is to check customer reviews. After all, what better way is there to get first-hand intel on what to expect from a carrier. Visit the service provider's web page or third-party review platforms and check out what real customers have to say about the service.
How Experienced are They
International shipping is no child's play. There are so many moving parts and a single error could cause massive delays or, worse still, complete loss of your goods. This is why you must only work with experienced door-to-door shipping companies. For example, Top 1 Freight has been in the door-to-door international shipping business for over a decade. In that time, we've amassed a wealth of knowledge, experience, and contacts that make us one of the most reliable players in the industry.
Test the Customer Service
The best door-to-door shipping services understand the value of customer service. They know the stress and uncertainty customers have from the time the consignment leaves to the time arrives. There will be times when customers will reach out to customer support to get feedback on the progress of the consignment. Good customer service ensures peace of mind throughout the process. Test the customer service by asking a few questions and gauging the response times and efficiency of the service before engaging your door-to-door freight shipping service of choice.
Shipping Goods Internationally? Enlist the Help of a Door-to-Door Shipping Company
Need to ship a consignment, big or small, internationally?
The best way to do so is to use a door-to-door shipping service. Not only will your goods be safer, but they'll arrive right on time. So go ahead and get a free quote from us today.