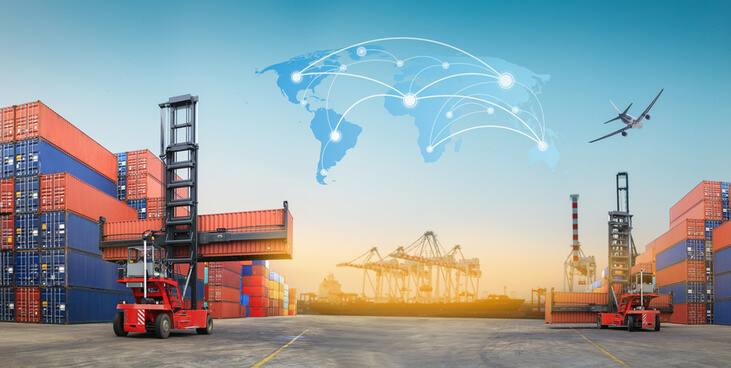 Shipping internationally doesn't have to be difficult. If you're in need of a reliable freight forwarder, you need a dependable partner to help augment your existing shipping resources. The good news is that with the right freight forwarder, shipping to Amazon FBA from China can be easy. Here's how it works.
It all starts with a freight forwarder that can get your packages to Amazon FBA in a timely manner. Shipping from China to Amazon FBA not only removes the burden of shipping or receiving items yourself, but it can also be significantly cheaper as international freight forwarding companies will have better rates than what you're able to negotiate for your company's shipments.
Avoid High Shipping Costs and Extended Delivery Timelines
With a reliable freight forwarder, you'll be able to reduce those high shipping costs and extended delivery timelines, especially at a time when worldwide shipping prices are going up and timelines are being pushed out due to COVID-19. With the right partner, you'll be able to figure out what your landed costs will be before you even manufacture your products, and that can help you get a better handle on your pipeline and your overall business.
But if you're trying to go it alone or you're not paying attention, you may miss the fact that Amazon could assign one of your pending shipments to multiple warehouses that are geographically separated. Not only does that mean potentially sending shipments to the wrong destination, but it can also substantially drive up your shipping and logistics costs. 
Customs exam fees, duties and tax should also be considered, and unless you've got everything in order with a reliable freight forwarder, you could be on the hook for significant penalties and fees if your international Amazon FBA shipments aren't organized and in good standing.
Don't Forget About Chinese Holidays
When you're making products, you're probably not thinking about your shipping. But if you or your shipping partner has a shipment scheduled for a Chinese holiday, you could end up behind the game even before you get started. Chinese New Year in spring, tomb-sweeping day in April, Labor Day in May or other holidays can all throw a wrench in your shipping plans, and a reliable freight forwarder represents a way to stay ahead of the curve.
Start With the Right Shipping Method
Before you can complete that shipment to Amazon FBA from China, you'll need to decide on a shipping method. Common options include China express shipping, China air freight and China sea freight.
Express shipping to Amazon FBA from China is best for shipments under 1 CBM and 200 kg, whereas China air freight is best for shipments over 1 CBM and 200 kg. For larger shipments of more than 2 CBM or 400 kg, China sea freight is ideal. Two options are available for China sea freight: less than container load (LCL) and full container load (FCL), whereas FCL loads are significantly cheaper per cubic meter.
That said, a reliable freight forwarder will enable you to get better rates than you would be able to get on your own due to their high volume, which is why it's always better to work with a freight forwarder.
Work With a China-Based Freight Forwarder
Rather than trying to figure it all out on your own and spending significantly more in time and money, a reliable freight forwarder makes shipping to Amazon FBA from China easy. If you leave it up to your supplier, you could end up bungling the Amazon requirements and be on the hook for paying a small fortune in duties, taxes and fees, as well as potentially losing your shipment altogether.
On the other hand, the right freight forwarding partner will take care of all the complicated work for you, including tricky Amazon FBA labeling requirements and ensuring that your shipment gets to where it needs to be without issue. The cost to you will also be lower, and your freight forwarder will be able to communicate directly with your supplier to facilitate the best possible shipment timeline. That's much better than missing important communications because of the time difference or missing a crucial window to get your shipment out.
Keep in mind that since a freight forwarder will send your goods directly to Amazon FBA from China, you won't have a chance to inspect the goods before they arrive. But instead of shipping everything first to your offices and then again to Amazon FBA, significantly increasing your costs, you can arrange an inspection with your freight forwarder, saving time and ensuring that your products are ready to go.
Ship to Amazon FBA With Top1Freight
For the best experience shipping to Amazon FBA from China, Top1Freight is a reliable freight forwarder that can help you streamline your fulfillment processes. We're a full-service international freight forwarder based out of Shenzhen, China with a wide network of services in China and all over the globe. Get a free quote today!